Virtual reality is becoming an increasingly popular application used for entertainment as well as improving health. Anyone who has witnessed a player using a virtual reality headset (or even the display of their smartphone) knows that VR creates a synthetic world with computers and software to create an immersive experience that can be quite lifelike. We have seized on the opportunity to be the first in Southern Indiana to use virtual reality technology as an effective approach to training the brain and eyes to work together better.
How Do Treatments with Virtual Reality Work?
At Vision Development Center, we take pride in using cutting-edge technology and keeping up on industry best practices when it comes to providing non-surgical vision correction. Previously, the old eye patch or eye drops method was the main way of dealing with amblyopia and/or strabismus. Times have changed. Now we can take advantage of this new technology from Vivid Vision.
Dr. Joan will consult with your patient first to make sure that VR is a suitable option. Some patients can become dizzy while inside a VR environment, for example. This is not a major concern, however, and most patients respond quite well to this technological innovation to improve their vision.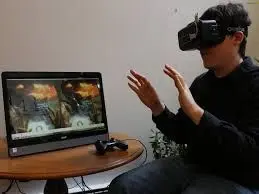 Your patient wears goggles or a headset that has small video screens that they look into to see a virtual world. Sensors in the headset keep track of every movement so that when the head changes position in the real world, the virtual display reacts accordingly like they are moving their head in the artificial environment. Start with a virtual reality world and split the scene into two images -- one for the strong eye and one for the weak eye. Next, Dr. Joan will decrease the signal strength of objects in the strong eye and increase it for the weak eye to make it easier for them to work together. Each week a little less help is required, so the difference between the eyes gets smaller and smaller. With practice, the two eyes learn how to team up and work together. By the end of the treatment, no modification of the images is needed for the eyes to combine them and see depth all the time.
Vivid Vision at Home
After your patient's initial visit with Dr. Joan, their specific settings for best visual function are entered into the clinic-based system. The hardware for home use can be purchased and used to gain access to the main system via access code given by Dr. Joan. Vivid Vision works with virtual reality headsets from leading manufacturers, including Google Daydream, Samsung GearVR, HTC Vive and the Oculus Rift. Periodic office visits are needed to adjust the settings as the eyes and brain learn each other better.
Visit Us for Non-surgical Vision Correction
There is no need for your patients to have to put up with their condition after other treatments have failed or left them unhappy with their level of visual function when treatment is readily available through non-surgical vision correction at our office. The virtual world offers a stress-free environment to focus on developing the brain's vision centers while having fun to boot! If you have any questions about what is involved in our approach to treatment for amblyopia, strabismus and vergence disorders or would like to refer a patient, we encourage you to connect with our office today.
Preliminary Research and Supplemental Information
Vivid Vision White Paper - Clinical Use
BMC Ophthalmology Research Article 2017
American Academy of Pediatric Ophthalmology and Strabismus Article Oct 2015